"For every complex problem there is a simple solution. And, It's usually wrong!"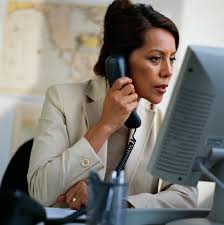 I got a frantic call last week from the board chair of a large non-profit.  "We got a big problem!" she shouted. I knew she was perturbed because rarely does she forgo any cordial greeting such as "hello how are you?"
"I'm doing fine, Thanks for asking" I said sarcastically followed by "Hey, hold on, when you say WE, do you mean as in ME and YOU? Or, as in YOU and YOURS?" "I'm sorry, it's just that our Executive Director has convinced the the board that we need to move from a decentralized organizational structure to a centralized one. I'm dead set against it! What should we do?"
We tend to look at all business issues as problems to solve. However, sometimes there are situations when there is no clear solution. Such a situation is called a polarity and has to be managed rather than solved.
In my client's example (centralize versus decentralize) they have a dilemma. Both methods have their advantages and disadvantages. I pointed out that no matter which course of action is chosen, the board and executive team must deal with the negatives and positives of their decision.
Problem to Solve or a Polarity to Manage?
An excellent book on this topic is Polarity Management: Identifying and Managing Unsolvable Problems by Barry Johnson, PhD. In his book Barry elaborates and provides insight on identifying polarities and the methods to manage them. I suggest you get a copy at your earliest convenience. In a nutshell, Barry points out that:
A problem generally has a solution that is an endpoint. And the solution can stand alone without needing to incorporate its opposite to be successful over time. These problems typically have an either/or solution. For example, "Of the five options, should we choose option 1

or

option 2?" "Where should we go to lunch? We can go

either

to Taco Bell or the new Chinese place?"
A polarity on the other hand is typically an ongoing situation with no clear solution. A polarity has an interdependence of opposites that require a continuing shift of emphasis overtime. It was obvious to me that my client was dealing with a polarity.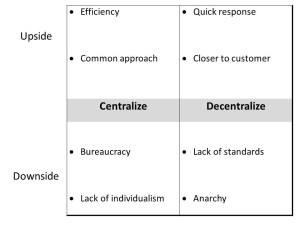 When you have determined that you are dealing with a polarity, use a four-square matrix to map the polarity.  Such as the one shown on the left. I suggested to my client that her team get together and list the positive aspects of the two poles in the top boxes and the negative aspects of the two poles in the bottom boxes.
No matter what course of action you take, realize that the situation is likely to change over time. If you find yourself in the negative side of a pole, take actions that will push the situation into a positive quadrant. In my client's case, the negative aspects of the right pole resulted in the executive director  pushing the organization towards Centralization instead of moving into the positive quadrant.
The bottom line is that no mater which course of action you take changes will continue to circulate between the positives and negatives of both poles. The leadership challenge is to minimize the time spent in the undesirable effects of the negative pole.
The Bad and Good News
The bad news. There are and will continue to be a large number of unsolvable problems in your work and home.
The good news. Stop trying to solve them! Instead, do as Barry Johnson advocates, improve your skills in identifying polarities (unsolvable problems) and learn to manage them well.
Towards the end of our conversation I asked my client out to lunch. "I'll give you three choices" I said. "Wendy's, Taco Bell or McDonald's?" "Neither!" she laughed. "Problem Solved!"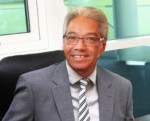 About the Author:
Gabriel Najera is the president & founder of the Najera Consulting Group. Gabriel is a frequent speaker to organizations. And, is a highly sought after advisor to corporate and nonprofit executives looking to develop a strategic thinking mindset.
Gabriel is the author of the forthcoming book, Lessons From the Field: From Farmworker to Fortune 500 Consultant. Gabriel is available to speak to your organization. To inquire about scheduling Gabriel for an upcoming speaking engagement or to inquire about our consulting services, please click on this link.