Another Post in Our Series of DIY Consulting Tools We Share Every Other Tuesday!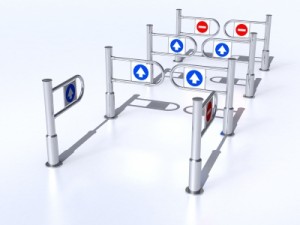 I'm very fortunate to have several clients who have been with me since the first day I opened my consulting business. And, over this time I have seen some of these businesses grow from small 5 figure businesses to healthy 9 figure businesses.
I had the chance to reminisce about the old days with one of them at a out of town conference recently. I commented that nowadays it seems easier to meet with them at events outside of Chicago than it is setting up a meeting with them through their office.
"What do you mean?" the Client asked.  I said, "in the old days I would just pick up the phone and get through to you directly. Usually on the first try. Now I have to set up an appointment with your secretary. I need to give her several dates and times. And even then, she still needs to get back to me to confirm a date and time." I said, "If I'm having a hard time reaching you, I wonder how difficult it is for some of your key customers to get though to anybody at the company?"
Growth is definitely a good thing. It can be exciting, and it's a  validation of all of your hard work. The problem comes when growth gets in the way of staying close to your customers.
So, how do you stay in close touch with the customer? By removing the unintended barriers that pop up along with your growth.
Overview of Tool
As the business grows, customer requirements, issues, feedback and complaints are often "filtered" through a number of people or procedures before they reach the person who actually does the work. Such filters can become barriers to delivering value to your customer. The Barrier Analysis tool helps you identify  those barriers and determine whether or not they are preventing you from listening as closely as needed to your customer.
The barriers you identify can be people, or they can be procedures that your organization follows that may not be apparent to the customer but are important in how you fulfill a requirement. For example, a customer may request a product by a particular date based upon his or her knowledge of how long it took you to make such a product in the past. However, the customer may not be aware of the new internal quality control process that now lengthen the time it takes to release the product.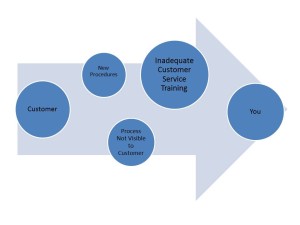 Once you have identified barriers to clear communication with your customers, you can work on removing the barriers. You can find ways to have more direct access to the customer or you can partner with people who can help you remove or get around barriers. Here's what a simple barrier analysis may look like.
How To Use This Tool
On a large piece of paper or erasable board, draw a circle representing the customer on the left side. Then draw a circle representing you on the right side.
Between the two circles, write down all the barriers between you and the customer. The size of the barrier, its shape, and its position should reflect how much it prevents you from receiving clear communication from your customer.
When you have identified all the barriers, begin identifying the individuals you need to partner with in order to hear your customers' requirements more clearly. For example, can you meet with management regularly so they can update you on new requirements? Can you arrange a system of getting accurate phone messages more quickly? Can you schedule a meeting with your customers to educate them on your team's work process and how they provide the product or service?
Identify things you may need to help these partnerships succeed. Do you need management to "buy into" the partnerships? Do you need to make a formal change in a work process, or can the partnership be handled informally?
Use This Tool When
You are not certain that you are "hearing" your customers' requirements clearly.
You have evidence that customers are not satisfied with the products and services you provide, even though you fulfill the requirements you perceive.
You are part of a large organization and you want to prevent the problem that multiple barriers present.
To Learn More
We recommend the following book for those interested in learning more:
Helpful Hints
Think broadly when you are identifying barriers.
It may be difficult to define the barriers between you and your customer in part because "barrier" means many different things to different people.
The barriers you identify may be assistants who take the customer's call and pass along a more or less accurate message, managers who deal with the customer directly and later explain the requirements to you, or electronic messaging systems.
Barriers can also be problems that stand in the way of meeting a requirement, such as trying to meet the requirements of many customers who have conflicting needs.
Najera Consulting offers a limited number of Free 1 Hour Strategy Sessions for owners of small to medium sized businesses and non-profit executives.
Schedule Your Session Today and:
• Gain better clarity of your organization's vision.
• Uncover hidden challenges and blind spots that could be sabotaging your success
• Leave this session renewed, inspired, and re-energized about your business or non-profit.
Space is Limited. Click here to contact us with the subject line, "Free Strategy Session" or call: 630-326-3238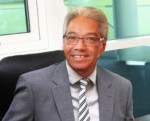 About the Author
Gabriel Najera is the president & founder of the Najera Consulting Group. Gabriel is a frequent speaker to organizations. And, is a highly sought after advisor to corporate and nonprofit executives looking to develop a strategic thinking mindset.
Gabriel is the author of the forthcoming book, Lessons From the Field: From Farmworker to Fortune 500 Consultant. Gabriel is available to speak to your organization. To inquire about scheduling Gabriel for an upcoming speaking engagement or to inquire about our consulting services, please click on this link.