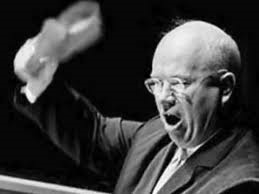 I was asked by a colleague after a tough negotiating session with a group of Russian executives….. "Gabriel, do you find the Russians difficult to negotiate with?"  I suppose he had in mind images of the Berlin Wall and the Cuban Missile Crisis or, for those of us old enough to remember, Khrushchev pounding on the desk with his shoe at the United Nations!
No I would tell them, "Believe me, negotiating with the Russians isn't as tough as some of the internal company negotiations I've been through. At least the Russians make their position clear. Sometimes it's those friendly faces on your own team who are the real Cold Warriors."
Some of the toughest negotiations that you will face will not be with those from outside your organization, but from those on your own team. Why are these negotiations tough?
Here is my take on why I believe internal company negotiations are the most difficult negotiations that you will ever face.
There is more data on you. Those within your organization usually know much more about you than you think. They know your hot buttons, the presentation you messed up last month, when you forgot that key bit of information, who your friends are within the organization, and who may be out to get you. In short they know a lot about your strengths and weaknesses. Unfortunately people tend to focus on your weaknesses instead of your strengths.
There are well-defined power relationships. There is little doubt as to who has the most power when the other side is your boss. This is called position power and can consciously and subconsciously influence the negotiation process.
There are "natural" enemies within any organization. Pick any organizational function and you will find a preoccupation with its own area of responsibility. If, as a negotiator, you are in one of these functions, you must deal with the baggage associated with your particular job, be it an engineer, accountant, computer programmer, sales rep, or Lord forbid a Lawyer!
There is reluctance to confront people who you work with on a daily basis. There is a general tendency for people to avoid confrontation. "After all, I've got to work with these people."
There are peer to peer issues at play. You have no direct control or authority over your peers and they know it.
Here are some negotiating tips and tactics that I suggest you follow to make your internal negotiations go smoother:
Become Politically Savvy. Do you know the strategy of your organization. What is it? What are the strategic implications of your position? Can you articulate them?
You should only take on those issues that you feel strongly about, but do it with the knowledge about how the other side feels, and how those individuals who influence the other side feel.
In the old pyramid structure, negotiating power came from your position in the corporate hierarchy and it trickled on down to the lower levels of the organization. You did things because the boss instructed you to do so. But in today's flatter and leaner organizations more mid-level managers are thrust into decision-making roles as they interact with similar managers from other departments or areas within the organization. You have no direct control over these individuals.  This is where the power of influencing your peers is critical.
There are four critical steps to take when negotiating with peers:
1. Increase your interpersonal competence. Skills such as building rapport, listening, and not interrupting others becomes critical.
2. Learn to tap new sources of power. The traditional sources of power – the authority of your position – is diminishing. You must find new sources of power. An effective way to do this is being able to articulate your value and uniqueness to the organization. What is your Value and Uniqueness?
3, Start building a climate of trust. Trust is vital in any negotiations for two reasons. First, it helps you get important information in the negotiation – even if you don't have formal authority over your peers. If the other person doesn't trust you, he or she will only tell you what they must tell you and nothing more. They won't trust you with the kinds of disclosures that can help break a logjam in the negotiation – such as what is really on their mind. Secondly, once a lack of trust damages a relationship, this damage is very difficult to repair and can significantly impact future negotiations.
4. Be seen as a model of cooperation in areas outside the negotiation. One way to develop and maintain a trusting relationship, and get what you want from the negotiation at hand, is to have a positive climate with your peers outside the problem or issue at hand. How often have you helped your peers when there is no apparent benefit to you from your involvement?
Confrontation: The Last Step if All Else Fails
Even if you follow these tips to improve your negotiating success with peers you may still run into difficult situations resulting in an impasse in the negotiating process.
One of the worst options if you are not happy with your counterpart's negotiating behavior is not to do anything. Why? This teaches the other side that their negotiating behavior is all right. If you are not happy with the other side's behavior confront them.
When confronting others, keep these key points in mind:
1. Pick the right time to confront. The best time to confront is when you notice the behavior. Don't wait. There's a school of thought that says this type of confrontation is best done in private. I disagree. If done with other people around they too will get the message that you're not putting up with this type of behavior.
2. Be assertive and use "I" messages. Stand your ground (if you're sitting, stand up),look them in the eye and use "I" statements such as; "I will not tolerate (fill in the blank) or I am not putting up with (fill in the blank).
I remember a team meeting in which I confronted our corporate attorney. I was presenting my case to management for closing a trade mark and licensing deal with another company.  The corporate attorney kept saying that my data was B.S.  I slowly got up, looked him in the eye and calmly told him; "I will not tolerate you saying that my data is B.S. I demand professional respect! If you do not agree with the data just say so!"  He got the picture and so did the other team members.  I never had a problem with him again.
Here's one last piece of advice.  Keep your shoes on!  It didn't work well for Nikita Khrushchev at the United Nations and I doubt that it will work for you!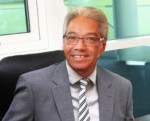 About the Author:
Gabriel Najera is the president & founder of the Najera Consulting Group. Gabriel is a frequent speaker to organizations. And, is a highly sought after advisor to corporate and nonprofit executives looking to develop a strategic thinking mindset.
Gabriel is the author of the forthcoming book, Lessons From the Field: From Farmworker to Fortune 500 Consultant. Gabriel is available to speak to your organization. To inquire about scheduling Gabriel for an upcoming speaking engagement or to inquire about our consulting services, please click on this link.