Another Post in Our Series of DIY Consulting Tools We Share Every Other Tuesday!

Some of the tools we have presented in our Tuesday's Tool of The Trade series take longer to implement than others. When it's essential to get quick participation and commitment from each group member we suggest a structured decision-making process called nominal group process.
The nominal group process is a quick tool for identifying problems, selecting which ones to work on. And, determining the order in which to work on the problems.
Overview of Nominal Group Process Tool
This tool is called a Nominal Group Process because, during the session, the group does not engage in the usual amount of interaction and time that is typical of an in depth problem solving session.
This process ensures that your team considers and ranks all members' important problems quickly. But, because members have an equal voice in selecting problems, they're likely to commit to working on the selected problem, even if it is not the one they would have chosen.
To Use This Tool
Identify the topic to be discussed.
Give group members five minutes to list problems. Members shouldn't talk during this time.
Record ideas on a flip-chart, but don't discuss them yet.
Clarify ideas if necessary, but don't judge them.
Write a letter, in alphabetical order, next to each idea, and have each group member write corresponding letters on a sheet of paper.
Ask each group member to rank the ideas numerically with the highest number given to the idea he or she thinks should be given the highest priority.
Record the rankings of all the members.
Add the numbers for each idea. The idea with the highest total is the most important idea to the group.
List the ideas according to their rankings and work on the problems in that order.
For example, a customer service team realized that their performance was declining, but they weren't sure how to turn it around. They participated in a nominal group process to identify problems and determine the order in which to address them. The results of their meeting are shown below: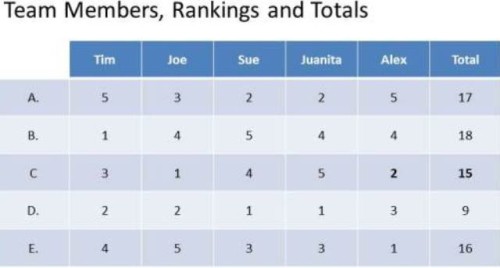 Problem Areas:
A. Too many phone calls
B. Computer system downtime
C. Involvement in other projects
D. Lack of technician services
E. Work area too noisy
Based on the team member rankings and totals, the team decided to focus their efforts on problem B, A and E. In that order.
Use This Tool When:
You quickly want to solicit ideas from all your group members.
You need a quick technique to help your group rank priorities and reach a consensus.
To Learn More
We recommend the following book for those of you interested in learning more:
Helpful Hints
Discuss only one topic per session, and inform group members of the topic ahead of time so they can prepare.
Don't comment on the ideas as you're recording them. Combine repeated ideas. Record all the ideas, but limit the number that you'll rank. For example, if the group offers more than twenty ideas, ask them to rank their top ten.
This tool is especially useful when all or some group members are relatively new to each other. It is also good for highly controversial issues or when a team is stuck in disagreement.
For the month of August, Najera Consulting Group will be conducting Free 1 Hour Strategy Sessions for a limited number of owners of small to medium sized businesses and non-profit executive directors.
Schedule Your Session Today and:
• Gain better clarity of your organization's vision.
• Uncover hidden challenges and blind spots that could be sabotaging your success
• Leave this session renewed, inspired, and re-energized about your business or non-profit.
Space is Limited. Click here to contact us with the subject line, "Free Strategy Session" or call: 630-326-3238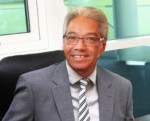 About the Author:
Gabriel Najera is the president & founder of the Najera Consulting Group. Gabriel is a frequent speaker to organizations. And, is a highly sought after advisor to corporate and nonprofit executives looking to develop a strategic thinking mindset.
Gabriel is the author of the forthcoming book, Lessons From the Field: From Farmworker to Fortune 500 Consultant. Gabriel is available to speak to your organization. To inquire about scheduling Gabriel for an upcoming speaking engagement or to inquire about our consulting services, please click on this link.