Monday Morning Musings
I came across the following blog in the Najera Notion archive. It was written by Gabriela Garcia and was originally posted in 2010. Re-reading it helped combat my Monday morning blues. I thought it may be of help to others going thru the same. Enjoy!  – Gabriel Najera
The Uncommon Hour
By: Gabriel Garcia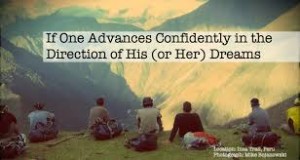 Henry David Thoreau once said, "I have learned that if one advances confidently in the direction of his dreams, and endeavors to live the life he has imagined, he will meet with a success unexpected in common hours."
One lazy Sunday afternoon, as I was on a quest to gratify my caffeine addiction, I passed a local newsstand. Out from the glossy covers of strikingly beautiful women, the notable Crain's Chicago Business caught my attention as the title bellowed at me: "40 Under 40."
Featured were men and women who have impressively succeeded in their line of work all before the age of 40. Many of these high achievers were still in their 20's or barely in their 30's. Although I tried not to compare myself to these success stories, I found myself shockingly unnerved and walked away, with a $4.57 latte in tow, feeling (a) stupid for paying so much for a latte, and (b) unaccomplished. Have I done enough to achieve my goals? Will I ever realize the personal and financial success of mastering my skills and unique abilities? Should I be doing more?
In today's world, youth is perceived as golden. High energy, youthful ambitions and an optimistically gaping future provide all the right ingredients for bountiful success early on. Men and women in their 20's and 30's who have had their date with success and went on to live happily ever after leave much to be desired from the rest who haven't. For those who have struggled to realize their full potential, lacked the confidence, or simply trekked down a few misguided, albeit well intentioned paths, patience and persistence can be the friends you never knew you had.
If professional and personal mediocrity has plagued you for the better part of your life, there is much to be admired by those who have realized success later on in life. Although fashion magazines, big budget movies and pop culture may suggest otherwise, I have a strong sneaking suspicion that life only gets better after the age of 50.
Napoleon Hill, an American author of personal-success literature, once wrote, "There is one quality which one must possess to win, and that is definiteness of purpose, the knowledge of what one wants, and a burning desire to possess it." For most people, the "definiteness of purpose" comes after years of living and experiencing the highs and lows of life.
Persevering through rejection, triumphing through accomplishments, re-learning things that proved wrong and gaining personal knowledge are all experiences that shape an individual and mold one's purpose. For those lucky few, this is found early on in life. For the rest, it is found in that uncommon hour.
Laura Ingalls Wilder, the famed author of "The Little House on the Prairie" series of books for children became a columnist in her 40's, and published her first book at age 65.  Her children's book series was an extraordinary success and later became a long running television series.
When Julia Child was anticipating her 50th birthday, she collaborated on her first French cooking book titled "Mastering the Art of French Cooking." Soon after, she promoted her book on television and that propelled her into an overnight sensation in the culinary world. Besides Martha Stewart, who in her own right became more successful after the age of 50, (New York Magazine declared her as "the definitive American woman of our time" on the cover of their 1995 issue when she was 54) Julia Child is the go-to woman when it comes to culinary undertakings.
Nancy Pelosi, former Speaker of the United States House of Representatives, was elected into Congress when she was 47 years old, and she was 67 years old when elected Speaker of the House. Pelosi has five children and was a stay at home mother for many years. She waited until her children were grown before she delved fully and wholeheartedly into politics. Her patience and perseverance paid off in a big way. She is the first woman ever to lead a political party in Congress.
These few examples of great accomplishment achieved later in life helps me to realize that success is something that welcomes everyone distinctively. Success is also something that is defined differently for everyone.
Each of us has our own personalized path to getting there, so partaking in the unpleasant mind game of comparison will do you no good. There are no deadlines for success. As long as persistence gives way to procrastination, and your ambition never dies, it will find you.  Perhaps it will find you in that uncommon hour when you least expect it.
Has the uncommon hour found you yet?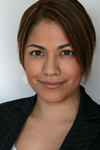 About the Author
Gabriela Garcia is Vice President of Marketing for Najera Consulting Group. Gabriela is a graduate of the University of Southern California with a B.A. in Comparative Literature. Gabriela worked for literary agencies in the film and television industry in developing literary talent for studio films and network television. She went on to become a talent agent with Pakula/King & Associates in Beverly Hills, working with casting directors and studio executives from Warner Bros., Sony, Universal, Paramount and Fox in the development and marketing of talent and in contracts and negotiations.
Gabriela is the founder of Modern Brown Girl, a digital resource for a new generation of Latinas. Modern Brown Girl provides engaging and inspiring content that highlights the subtle nuances of being 100% American and 100% Latina. Follow Gabriela on this new journey as Modern Brown Girl strives to bring you a collective of all things mind, body and soul for ALL women of color.
For the month of August, Najera Consulting Group will be conducting Free 1 Hour Strategy Sessions for a limited number of owners of small to medium sized businesses and non-profit executive directors.
Schedule Your Session Today and:
• Gain better clarity of your organization's vision.
• Uncover hidden challenges and blind spots that could be sabotaging your success
• Leave this session renewed, inspired, and re-energized about your business or non-profit.
Space is Limited. Click here to contact us with the subject line, "Free Strategy Session" or call: 630-326-3238