I had the chance this week to reminisce with a couple of long time friends who I have not seen since college. We had a great time talking about our time at Michigan State. And, with college football season right around the corner, the talk around the table was how we were going to beat the crap out of Michigan this year! Then, we started talking about us.
We all remarked how each of our career paths did not resemble what we visioned while students. Which prompted the question, "How did we get here?" One of the friends chimed in and said …
"How did we get here? Booze and bad decisions. That's how we got here my friends!"
This prompted a suspiciously nervous laugh from us (hmm?). Talk then turned to family, friends and our old college professors. We said our good byes with the promise of doing this again real soon.
When I look back on how I got to where I am, I have four observations (OK, five if you count my friend's observation).
Observation number one – The only way to be successful in any pursuit is to love what you are doing. I'm not talking like. I mean passion. A real burning desire. The time and dedication it takes to get really, really, really good at anything requires a lot more than talent and a passing interest.
When you have to compete with other hungry people (and these people seem to be getting younger!) the person with the most passion and burning desire for what they are doing will always have an edge. Regardless of age.
Observation number two – Feel the fear and do it anyway. This is an ongoing challenge for me. But, as one of my mentors pointed out …."You should feel fear. You should be afraid. In other words, your dream or burning desire should make you shudder and sweat but you should pursue it. If your dream is puny you can just go to the mall and get it!"
Observation number three – Don't take on an occupation, or stay with one, just for the sake of money. You may have the money, but eventually you will lose touch with your true career passion and turn into one very unhappy person.
Observation number four – Never, never, ever, ever do what somebody else has already done or been. You can see people making this mistake all the time in my business. By design they are setting themselves up to be so so. I can hear you saying "Hold on there! Aren't you in a business that's been done before?" Yes, but to paraphrase Frank Sinatra "I'm doing it my way!"
Somehow, everything worked out for me and I am enormously grateful. I wish I could say it's because I'm such a disciplined person. I can't say that. But I did have a dream to help people and talk about things that fascinate me.  I really got to do what I love and get paid for it!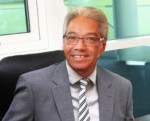 About the Author:
Gabriel Najera is the president & founder of the Najera Consulting Group. Gabriel is a frequent speaker to organizations. And, is a highly sought after advisor to corporate and nonprofit executives looking to develop a strategic thinking mindset.
Gabriel is the author of the forthcoming book, Lessons From the Field: From Farmworker to Fortune 500 Consultant. Gabriel is available to speak to your organization. To inquire about scheduling Gabriel for an upcoming speaking engagement or to inquire about our consulting services, please click on this link.