Another Post in Our Series of DIY Consulting Tools We Share Every Other Tuesday!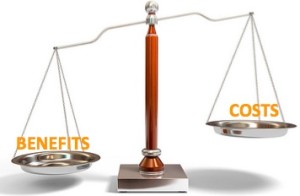 Consider this situation: Your work group has developed an action or a solution, and now the group wants to determine whether it's worthwhile to proceed. A Cost/Benefit Analysis can give your group a rough idea of the value of the project from a profitability standpoint.
Overview of Tool
Using cost-benefit analysis can help you be a bit more rigorous in your decision making process and more confident in the final decision you make. Assessing the costs and benefits helps you zero in on the action or solution that offers the most "bang" for the buck. However, keep in mind when making your final decision, that these analyses often include estimates and other qualitative factors that may be hard to pin down.
How To Use This Tool
Determine the costs associated with a proposed solution both initial and ongoing.
Calculate the dollar value of the benefits.
Subtract the costs from the benefits year-by-year to determine the savings in that year.
Compare the savings year-by-year against alternatives (including "do-nothing.")
Report your findings and plan a course of action.
Generally, the alternative with the earliest "payback period" (the time for the cumulative cash flows to rise above zero) is the preferred alternative provided "payback" is two years or less. If the payback period is longer, more sophisticated financial analysis may be required.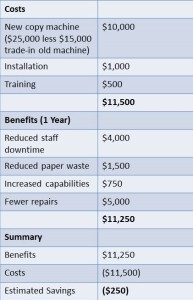 After several months of experiencing copy machine breakdowns, the in-house publishing department of a small company proposed that the company purchase a new copy machine.
The department prepared the cost/benefit analysis (shown on the right) to present the idea to their purchasing manager. They are comparing against the alternative of "do-nothing." Their analysis indicates there is a small negative cash flow in the first year but not large enough to deter the purchase of a new machine.
Note: The cost-benefit analysis described here is intended to be a "quick and dirty" estimate of the feasibility of a project. For a more rigorous cost analysis technique, consider using The Net Present Value Method.
Use This Tool When
You need to determine the feasibility of an action or solution and assess its cost effectiveness.
You want to establish the validity of a proposed action or solution.
To Learn More
I recommend the following book for those interested in learning more:
Helpful Hints
Although your Cost/Benefit Analysis might indicate a cost savings, your group should also consider other factors, such as department budgets, the priority of the item, and the availability of resources before making a final decision.
Decide whether your actions or solutions lend themselves to dollar comparisons. If not, choose another method of analysis.
Check with others in your organization to see whether cost and savings information for your action or project already exists.
When you calculate dollar amounts, include all capital expenditures as well as staff time and any outside fees in your costs.
Najera Consulting offers a limited number of Free 1 Hour Strategy Sessions for owners of small to medium sized businesses and non-profit executives.
Schedule Your Session Today and:
• Gain better clarity of your organization's vision.
• Uncover hidden challenges and blind spots that could be sabotaging your success
• Leave this session renewed, inspired, and re-energized about your business or non-profit.
Space is Limited. Click here to contact us with the subject line, "Free Strategy Session" or call: 630-326-3238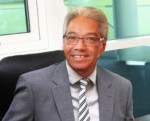 About the Author
Gabriel Najera is the president & founder of the Najera Consulting Group. Gabriel is a frequent speaker to organizations. And, is a highly sought after advisor to corporate and nonprofit executives looking to develop a strategic thinking mindset.
Gabriel is the author of the forthcoming book, Lessons From the Field: From Farmworker to Fortune 500 Consultant. Gabriel is available to speak to your organization. To inquire about scheduling Gabriel for an upcoming speaking engagement or to inquire about our consulting services, please click on this link.