Another Post in Our Series of DIY Consulting Tools We Share Every Other Tuesday!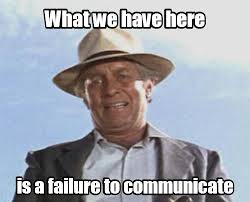 Everyone at one time or another has been in the situation where work team communication breaks down. Unfortunately in business a failure in communication usually causes a lot more harm than good.
A key cause of communication failure is how each of us interprets the information that has been presented to us.
Different parties interpret the same facts quite differently such that each may come to a different conclusion. Understanding the perspectives of your managers, team leaders, teammates, customers, and partners therefore is critical to reaching win-win situations and to achieving the business results you desire.
So how do you do this? By using a tool called "The Ladder of Inference." This tool not only helps you become more aware of your own thinking and reasoning, but helps you learn how to explain why you came to your particular conclusions in the first place.
Overview of Tool
The Ladder of Inference is a mental model adapted from Peter Senge's book "The Fifth Discipline: the Art & Practice of the Learning Organization." It describes how we take in data and draw conclusions based on our observations and past experiences. In other words, the model implies that your beliefs, assumptions, and values influence what data you select, what meanings you add, and what conclusions you draw. The bottom line is that you take actions based upon your beliefs.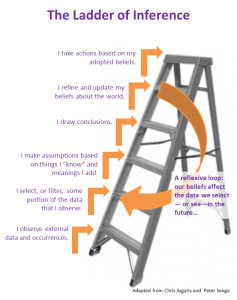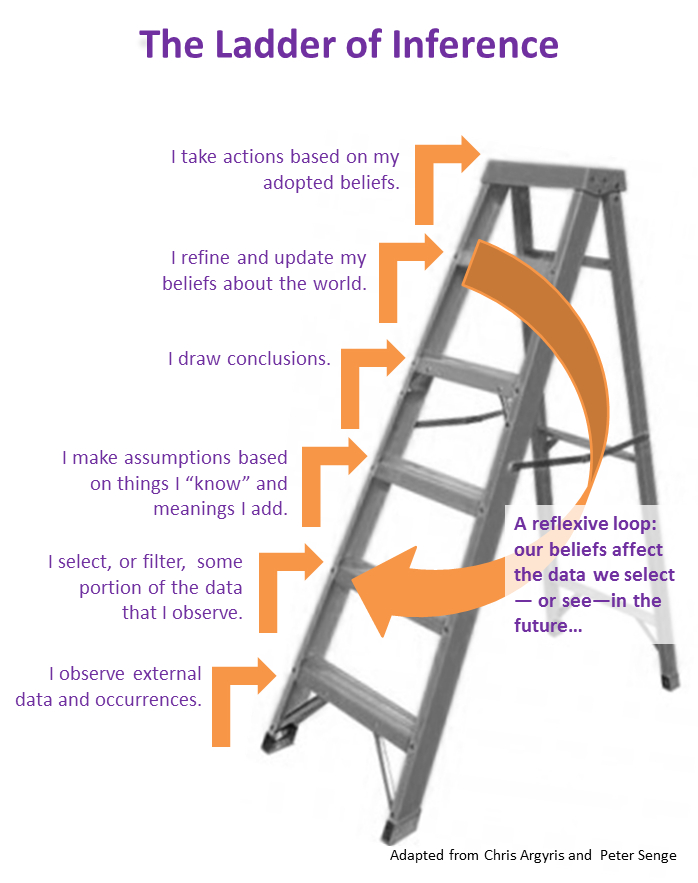 The model to the right shows how a belief is based upon data, to which meaning has been added and conclusions drawn.
Using the Ladder of Inference can help you understand your and your team's perspective and thereby improve your communication skills on the job.
How to Use This Tool
When you are having trouble understanding why another person holds a particular belief, you can use the model to search for the basis of the person's belief.
If possible, show the person the model or sketch it.
Use the model to prove the person's beliefs. Try to bring the discussion down to the lower rungs. For example, you can ask, "What are the data you used in your analysis?" Or, "When did you first come to believe this idea? Did a single experience form your thinking, or did you acquire your beliefs over a period of time"?
As you pursue answers to your questions, be as objective as you can. If it is important to you that you be able to work with this person, look for common beliefs. At the same time, test your own beliefs against the ideas you are hearing. You may be required to shift your thinking as well.
Use This Tool When
You want to increase your team's inquiry and advocacy skills; i.e., improve communication skills within the team.
You are looking for a true win-win situation.
You want to test your own observations and assumptions.
You want to improve your own communication skills.
To Learn More
We recommend the following book for those interested in learning more:
Helpful Hint
When a fact seems so obvious to you that it must seem obvious to everyone else, watch out! It may be time to walk down your Ladder of Inference.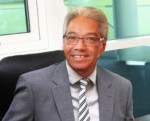 About the Author:
Gabriel Najera is the president & founder of the Najera Consulting Group. Gabriel is a frequent speaker to organizations. And, is a highly sought after advisor to corporate and nonprofit executives looking to develop a strategic thinking mindset.
Gabriel is the author of the forthcoming book, Lessons From the Field: From Farmworker to Fortune 500 Consultant. Gabriel is available to speak to your organization. To inquire about scheduling Gabriel for an upcoming speaking engagement or to inquire about our consulting services, please click on this link.