Another Post in Our Series of DIY Consulting Tools We Share Every Other Tuesday!
Brainstorming is a great tool for generating ideas from your team about business problems and identifying opportunities for improvement. But, when the brainstorming session is over it's now time to move on and focus on problem solving and improvement techniques.
You'll find that the problems identified through brainstorming will typically revolve around an existing work process. Whether we like it or not, everything we do, such as making phone calls, sending an email, talking to employees, marketing, closing a sale, ordering supplies, billing customers, writing a proposal etc., is part of a work process.
A tool Najera Consulting finds useful in the analysis of work processes is the flowchart.
"Flowcharts help you identify work process problems and their root causes."
Overview of the Tool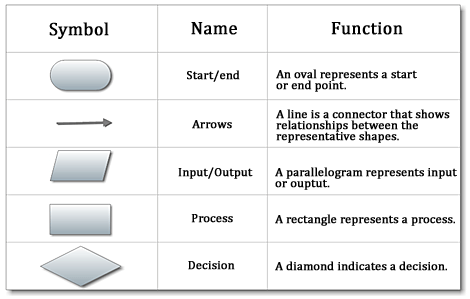 A flowchart uses symbols (as shown on the left) to show the sequence of steps in a process or complex task. You can use a flowchart to identify potential trouble spots, redundancies, sources of error, and unnecessary complexities in almost any process.
To Use the Flowchart Tool
1. Identify the process or task to be analyzed.
2. Determine the starting and ending points.
3. Fill in the necessary steps between the starting and ending points. Use one of the appropriate flowchart symbols for each step.
4. Draw arrows to connect each step with the next until the process is completely diagrammed.
5. Analyze the process flowchart and revise it if necessary. Some questions to ask during this step include:
Does each step add value?
Is there any duplication?
What steps can be eliminate?
Can we reduce the time it takes to do a particular step?
Is the sequence of steps the most efficient way of doing this process?
6. Develop a plan of action to correct problems.
Use the Flowchart Tool When
You need to analyze a process or establish a work flow. By breaking down a process into logical steps, you can often pinpoint areas that need corrective action or identify potential problem areas for preventive action.
You need to redesign a current process. By imagining the perfect process, you can compare it with the current process and determine whether the perfect process is attainable.
You're planning a project. Flowcharts aid planning by establishing a flow of events that you can use for resource scheduling.
You need to explain a complex process or project to others. Using a flowchart is an easy visual method for communicating complicated processes or projects.
To Learn More
We recommend the following four (4) books for those of you interested in learning more:
Helpful Hints
Construct flowcharts from either left to right or top to bottom. Ask people who are most familiar with the process to help create the chart.
As you create a flowchart, make sure you clearly distinguish between charts that show processes as they are and processes as they should be. It's tempting to "improve" the current process as you flowchart it, but you should avoid the temptation.
If you want to, you can also limit the scope of the flowchart to the part of the process that you suspect has problems.
For further analysis, you might want to make a Pareto chart showing the time spent on each step in the process.
About the Author:
Gabriel Najera is the president & founder of the Najera Consulting Group. Gabriel is a frequent speaker to organizations. And, is a highly sought after advisor to corporate and nonprofit executives looking to develop a strategic thinking mindset.
Gabriel is available to speak to your organization. To inquire about scheduling Gabriel for an upcoming speaking engagement or to inquire about our consulting services, please click on this link.