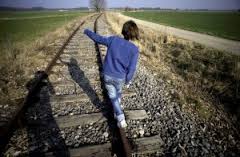 I had the opportunity to visit my hometown of Saginaw, MI recently. While there I visited the old neighborhood that I mentioned in my May 4, 2015 blog post A Lesson from "Frank the Philosopher."
In my blog, I wrote how Rudy, Frank and I used to challenge each other to see who could walk down the railroad track the farthest without falling off. Every time Rudy and I would walk a few steps and fall off. But Frank could walk and walk and just keep going.
Frank's simple advice to keep from falling off, was to pick out a target down the track and walk toward that spot. When you get close, simply selected another target and walk toward it. Great advice. And, it worked!
Seeing the old neighborhood brought back many memories.  Yes, the train tracks were still there. And, no I did not attempt to see how far I could walk on the rails.
"Frank probably didn't realize it at the time, but he was also giving Rudy and me a lesson in leadership."
In the book "The 7 Habits of Highly Effective People" by Stephen R. Covey it says people in business manage from the left, and lead from the right. Covey implies that leadership tends to be a dominant right brain activity.
| Management Characteristics | Leadership Characteristics |
| --- | --- |
| Focused on efficiency | Focused on effectiveness |
| Strategic planning abilities | Vision formulation abilities |
| Deals with impact | Deals with innovation |
| Focused on tasks | Focused on realtionships |
| Process orientation | Vision orientation |
| Centered on analysis | Centered on synthesis |
| Quantitative skills | Qualitative skills |
| Logical thought process | Creative thought process |
| Dominant left brain | Dominant right brain |
While some may not buy the right versus left brain theory, I'm sure we can all agree on the Management vs. Leadership characteristics shown on the left and right column respectively.

Frank probably didn't realize it at the time, but he was also giving Rudy and me a lesson in leadership. Logic told Rudy and I that by keeping our eye on our feet and the railroad tracks we would be able to stay on "track."

Frank couldn't see his feet, but instead of giving up, he tapped his mind to come up with a creative way to accomplish the goal. How many times have we given up because "logic" tells us it can't be done any other way?

Managers tend to rely more on logic while leaders tend to be more creative in their approach to reaching goals.

I remember Frank telling Rudy and me to, "Follow me." We would respond by saying, "Shut-up Frank! Can't you see we're concentrating?!" Frank put up with a lot from Rudy and me. He could have told us long ago to get lost! But he didn't. He came with us every time.

You see Frank had a relationship mindset. While the goal for each of us was to walk the farthest without falling off, Frank was more concerned with us all getting there as a team.

Many managers tend to focus exclusively on the task at hand and forget that the people involved need motivation and encouragement. Leaders have a relationship mindset. Enough said.

My year's experience has taught me that business success alone cannot compensate for failure in management. And, that leadership alone is not enough. The hard part is determining when to manage and when to lead and when to do both. That's for another blog.

Hey, come to think of it Frank always switched hands from left to right while eating his steak sandwich!

About the Author:
Gabriel Najera is the president & founder of the Najera Consulting Group. Gabriel is a frequent speaker for organizations. And, is a highly sought-after advisor to corporate and nonprofit executives looking to develop a strategic thinking mindset.

Gabriel is available to speak to your organization. To inquire about scheduling Gabriel about an upcoming speaking engagement or to inquire about our consulting services, please click on this link.