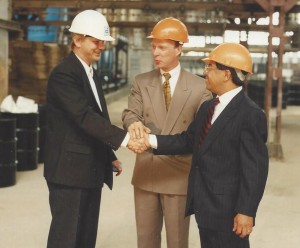 Back in the 1990's there was a commercial being shown around the country that In my opinion describes the prevalent American business mindset of negotiating.  In the commercial a customer approaches a car salesman; you hear the customer go over key points in his head. The key points he keeps repeating are; Size up your opponent! Appear knowledgeable! From the way he approaches the salesman, another key point he may have picked up is to look stern and uncompromising. "I better look displeased so I can get a better deal!" Although the commercial is meant to be comical, I believe it accurately portrays what most people understand negotiating to be.
Negotiation Approach
Pick up any book on negotiations and they generally propose two approaches. The "competitive" approach – as exemplified by the car commercial – or the "cooperative" approach.
Most people are familiar with the competitive approach because the majority of negotiations use this method. The seller asks for one price, usually above the price the buyer is willing to pay, the buyer responds by offering a price below the asking price of the seller; they typically exchange prices until a compromise is reached.
The other is referred to as the "cooperative" approach. This is cited in the book Getting to Yes, by Roger Fisher and William Ury. The authors say that people should sit down and share their true interests instead of focusing on positions. Search for common ground and be creative, which would result in negotiated agreement and a much richer relationship.
While many experts believe that the "cooperative" approach is commendable they also feel it's unrealistic in today's highly competitive business environment. In Smart Negotiating, James C. Freund says, "This approach does not address the needs of most Americans who negotiate nowadays."
He may have a point regarding Americans. While returning from a successful negotiating session in Moscow I had the opportunity to sit next to an English gentleman. We talked about our mutual international business experiences. I also was conducting negotiations in Mexico at the time. I mentioned to him that I was surprised how similar the Mexican and Russian approaches to business negotiations were. He responded by saying "its not that the Mexicans and Russians have similar approaches, but that you Americans are so different from the rest of the world!" What an insight! I knew what he meant. What Russians and Mexicans had in common was a focus on establishing relationships.
I told my travel companion that I was taken by surprise when my Russian counter parts immediately asked for $4 million to enter into a joint venture in Russia. In retrospect I realized this initial demand might have been in response to how they viewed the American "competitive" approach to negotiations.
I did conclude a deal in which the Russians accepted an agreement to market our product without a capital outlay on our part. How did I accomplish this? By establishing rapport – negotiating in a cooperative manner – and by viewing the Russians not as opponents or adversaries but as negotiating partners.
Don't get me wrong, In any negotiation you are striving for the best position. But I also believe that the best position can be achieved more readily through a cooperative rapport building approach to negotiations.
Building Rapport
One of the best references on building rapport is Dale Carnegie's How to Win Friends & Influence People. It is full of practical tips. I encourage you to read it if you haven't already. However, two sure-fire techniques that I use to build rapport are:
1. Tell The Truth.  In my first meeting with the Russians they asked me, "what is your marketing strategy for the Russian market?" I did not have a Russian marketing strategy! Instead of giving them a vague answer (i.e. corporately correct), I told them I had none!  Afterwards my interpreter told me this was the first time in his experience that an American executive responded in this way. He told me "Americans usually have an answer for everything!"
From experience I have learned that It's OK to say you don't know. People respect you for being honest. It shows a high level of self-esteem and makes others trust you and want to do business with you.
2. Show a sincere interest in the other person. Show an interest in the WHOLE person and not just in the business position they hold. Most of my business colleagues are poor at this. They feel this is being too intimate and not professional. Most of their conversations usually revolve around business issues and avoid the personal touch. You don't have to be nosy or pry. There are subtle ways to show interest in the whole person.
For instance, most married people have mother in laws. If you have a mother in law you have a mother in law story. I'm married and I have plenty of mother-in-law stories that I share at appropriate times. You'd be amazed at how many people respond with their own stories that provide an insight into their personal lives! I listen intently and nod my head in appreciation to their situation!
Once you have established rapport you are able to gain trust and:
Easily gather information.
Identify common interests.
Learn the other side's true goals.
Reach for an agreement.
Negotiating Partner or Adversary?
The reason you negotiate is to arrive at a position that is better than the position you currently hold. If you don't agree consider this fact, "everything that you want is owned or controlled by someone else." If you are happy with your current state there is no need to negotiate.
In the book Getting to Yes, the authors say negotiators should always have a Best Alternative to a Negotiated Agreement (BATNA). If both sides have a BATNA then agreeing not to agree puts you both in a better position than you were prior to the negotiation. If this is true, shouldn't you view the other side as a partner instead of the adversary or opponent in the negotiating process?
The Dilemma
If you view the competitive and cooperative approach as an either or proposition you have a dilemma. You need to be both competitive and cooperative at the same time. The way to do this is by building rapport and viewing the other side as a partner in the process. Having a BATNA suggests mutual gains for both even if you fail to reach a negotiated agreement.
Building rapport is effective whether the other person is more or less experienced whether you are negotiating one issue or several, whether the issue is complex or simple, or long or short term. Every negotiation is different but the principal of building rapport remains the same.
And best of all, if all else fails you possibly have developed a business friendship for life!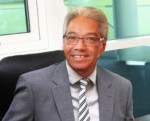 About the Author:
Gabriel Najera is the president & founder of the Najera Consulting Group. Gabriel is a frequent speaker to organizations. And, is a highly sought after advisor to corporate and nonprofit executives looking to develop a strategic thinking mindset.
Gabriel is the author of the forthcoming book, Lessons From the Field: From Farmworker to Fortune 500 Consultant. Gabriel is available to speak to your organization. To inquire about scheduling Gabriel for an upcoming speaking engagement or to inquire about our consulting services, please click on this link.