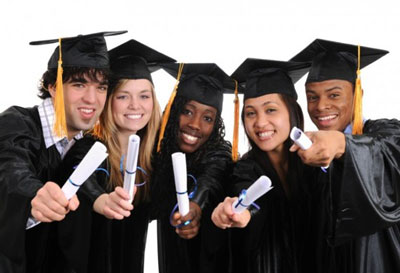 It's that time of year when our nation's college graduates are looking toward the next step in their careers. Many have already decided years before graduation what direction their lives would take.
But many more are either just starting their job quest, or questioning how they'll move forward after graduation. If you fall into this category, here's my advice – It's never too late to visit the career planning and placement office at your university, or seek a professional career coach.

As parents (or investors) it has to be very disheartening when your recent college graduate doesn't have a position lined up, or a career plan, and doesn't even know where to get started.  An informal poll shows nearly 40% of recent college graduates are either without a career plan, or are contemplating another degree in order to put off pursuing a job.
Given that the investment in four years of college, or university, is in excess of 80,000 dollars over 4 years it must be very frustrating watching this investment struggle without a clear direction.
Recently I've had numerous opportunities to ask some recent graduates who are now searching for a job why they didn't start in college. Most say that they were not aware of resources to help them pursue jobs/careers. Many also did not know what they wanted to do after graduating.
This bad planning results in a prolonged job search, low wage and/or temporary positions. Given the very competitive job market for recent graduates, having to 'retool' or re-adjust job content and salary expectations are just some of the typical outcomes.

When students are looking at college and university programs the number one question to ask is what type of placement support is provided. Many colleges and universities have numerous career counseling, self-assessments, and internship programs to offer. Unfortunately, most students do not take advantage of these resources early enough to help them in their transition from college onward.

So for those recent graduates who are unsure or struggling to get started in their job search there are numerous resources available. In addition to going back to their school's career planning and placement office (it's never too late), there are professional organizations that can help support you.
Some of these are Career Resource Centers (often run as non-profits), and are religious or community based. Local county and state agencies offer a variety of assistance. Also career focused seminars and classes assist with resume writing, job search, self-assessments, and etc. There are also numerous professional career coaches, but I always ask students to utilize their free resources first before spending hard earned money.

For those recent graduates who have a position lined up we say best wishes for an exciting career. For those who have not decided yet we say pull your job search plan together and utilize every resource available.

About the Author:
John Estrada is best known for his business approach in the Human Resources field, particularly with work in the leadership/executive coaching, career development and talent management arena.
John oversees a thriving coaching practice. He merges energy and enthusiasm working with clients on every aspect of their business career.
To inquire about about John's career coaching services please click on this link.