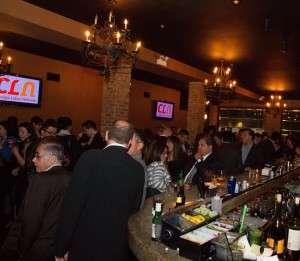 On Wednesday April 29th I attended Schmoozefest 2015 for the first time.  This is an annual professional networking event put on by our client The Chicago Latino Network. This year's event was held at Moe's Cantina and was  MC'd by Zoraida Sambolin, a very popular and beautiful! (my emphasis) local news celebrity.

The crowd was made up mainly of 20, 30 and 40 somethings.  I met a young lady who told me she was a senior in college and would be graduating next month.  We started talking about the recent Chicago mayoral election and I realized that I kept repeating the same thing to her over and over again. For a minute I thought she couldn't hear me because of the loud music.  I quickly came to the conclusion that the reason I was repeating myself was that she didn't fully understand what I was trying to tell her. In exasperation I finally said to her, "Listen, I hate to sound like a broken record but…" She looked at me with a puzzled look and said, "What's a broken record?"
I'm skilled at communication. I watch body language; I look for hidden meanings in the message and all of the stuff that communication experts suggest you do. Why then wasn't I effectively communicating? After several minutes of just looking at her, I realized that this person probably grew up listening to mp3s on her iPod and had no idea what a broken record sounded like or why I used that phase to make my point. This person, by my calculations, was born somewhere around 1993.
Today's college graduating class share a perspective (i.e. mindset) of the world that's much different from the perspective many of us more mature (i.e. older) individuals have. They have a different point of view than most of the managers and supervisors who will be charged with overseeing their work. How different is that point of view or perspective? And how does it complicate communications in the workplace?
According to a list making the rounds on the Internet, people who will graduate from college next month may have never written in cursive; and with cell phones to tell them the time, there is no need for them to own a wrist watch.

Each August since 1998, Beloit College in Wisconsin has released the Beloit College Mindset List. It provides a look at the cultural touchstones that shape the lives of students entering college.  A group of college professors who compared notes on the incoming freshman class originated the list. Says Ron Nief, former director of public affairs, "I'd refer to Walter Cronkite, and the kids looked at me like they didn't know who I was talking about." This prompted Nief and his colleagues to put together a list that would help the faculty put things into perspective.
The people who are graduating from college this year and will soon be joining the workforce (at least mom & dad hope so!) have the following cultural touchstones that have shaped their lives: (This is a sampling. For the complete list visit Beloit College Mindset List)
What Berlin wall?

Humvees, minus the artillery, have always been available to the public.

Rush Limbaugh and the "Dittoheads" have always been lambasting liberals.

They never "rolled down" a car window.

They have grown up with bottled water.

General Motors has always been working on an electric car.
Although the list was created originally as a reminder to faculty to be aware of dated references, it is also a tool to better understand the significance of one's "Frame of Reference." Our individual experiences with the world provides us with a unique perspective causing us to see things a certain way in given situations.
People who work in organizations can probably site the frequent occurrence of misunderstandings this causes in the workplace. Different parties interpret the same facts quite differently such that each may come to a different conclusion. Understanding the perspectives of our managers, team leaders, teammates, customers, and partners is critical to reaching win-win situations and to achieving the results we desire.
So how do we do this? A tool I and others have found effective is The Ladder of Inference. The tool not only helps us become more aware of our own thinking and reasoning, but can help us learn how to explain why we came to our particular conclusions in the first place.
The Ladder of Inference comes from Peter Senge's book "The Fifth Discipline Fieldbook." The Ladder of Inference is a mental model that describes how we take in data, draw conclusions and take action based on our observations and past experiences. In other words, we select data and add meaning to it based upon our own backgrounds. Our beliefs, assumptions, and values influence what data we select, what meanings we add, and what conclusions we draw.
When you're having trouble communicating with another person or understanding their conclusions (especially a 2015 college graduate) try this three step process:
1. Reflect – Become more aware of how your frame of reference influences your thinking and reasoning. The Beloit College Mindset List did not exist when I entered my freshman year of college. However, I vaguely remember reading a theory by a professor from the University of Colorado that stated our lifetime beliefs are ground into us by the world that existed when we were between the ages of sixteen and eighteen. So, reflect a bit, "What was the world like when you where that age? How different was it from the world that existed when the other person was eighteen?" If this theory is true my lifetime beliefs are ground into me by the world that existed from 1968 thru 1970. Ouch!
2. Advocate – Make your thinking and reasoning more visible to others.
Share your beliefs and the data you used to come to these beliefs. If it is important that you need to work with this person, look for common beliefs. At the same time, test your own beliefs against the ideas you are hearing. You may be required to shift your thinking as well.
3. Inquire – Delve into the other person's thinking and reasoning with an open mind. For example, you can ask, "What are the data you used in your analysis?" Or, "When did you first come to believe this idea? Did a single experience form your thinking, or did you acquire your beliefs over a period of time?"
Knowing the other person's frame of reference can help you to successfully communicate and avoid misunderstanding that can hinder workplace performance and subsequent relationships. It's also a great way of understanding different vantage points and helps to expand perspectives.
Hey, I have an idea. Someone should compile a list for us older folks. I'll start. Do you know what "LSMFT" stands for? If you answered yes, comment below! Do you feel OLD YET?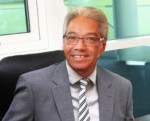 About the Author:
Gabriel Najera is the president & founder of the Najera Consulting Group. Gabriel is a frequent speaker to organizations. And, is a highly sought after advisor to corporate and nonprofit executives looking to develop a strategic thinking mindset.
Gabriel is the author of the forthcoming book, Lessons From the Field: From Farmworker to Fortune 500 Consultant. Gabriel is available to speak to your organization. To inquire about scheduling Gabriel for an upcoming speaking engagement or to inquire about our consulting services, please click on this link.