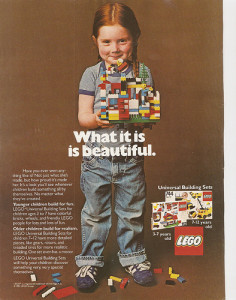 In 2011, Fast Company published an article entitled, "The Most Influential Women in Technology." The article highlighted 30 women in all aspects of science, technology, engineering and math who had made significant strides in technology. Indeed, the list was very impressive and included women ranging from CEO's to scientists and engineers. Shortly thereafter Digg.com picked up the article, and the comments that followed drastically altered the original intention of the article. So much so, that they were just down right disappointing:
"That woman is a stone cold fox."
"That girl is hot. I bet she has a way of controlling the men around her."
Other comments that followed suggested that these women got on the list by utilizing their sexuality, and so on and so forth. One mother even commented that she wished her daughters would go into a career of technology because it would offer them "a lot of money to buy clothes, handbags and shoes," but alas, their minds just "aren't inclined to that type of work."
In a nation where we are advanced in so many ways, when it comes to the way women are marketed to, written about, or even talked about, it always seems to boil down to one thing: beauty. More often that not, a women's appearance always seems to supersede any mention of her skills and/or accomplishments. In this media drenched world where the beauty barometer is measured every minute, even a top notch, highly successful and intelligent woman like former Secretary of State Hilary Rodham Clinton is still sometimes judged by her outfits and hair choices.
So what are girls learning at a young age? That being "sexy" trumps intelligence. And where are they learning this? Well, pick your cultural poison. We have to look beyond the classroom and into the entire ecosystem where education also takes place, which includes every facet of the media: television, internet, radio, magazines, etc. There is a very steep, sliding scale of what is regarded to be acceptable viewing for children on television and what is advertised in magazines.
Turn on your television any night of the week and you will find shows like "America's Next Top Model", "Jersey Shore", "Keeping Up With The Kardashians", "The Real Housewives of (Insert City Here)", or even worse, "Toddler and Tiaras." All of these shows have one thing in common – young women who are popularized and/or given accolades for being pretty and acting obtuse. Where are shows like, "America's Next Top Scientist," or "Keeping Up With The Einsteins?" Where are the shows that popularize and give accolades to those who are making advances in science, technology, engineering and math? As a celebrity obsessed culture, we are putting emphasis on all the wrong things.
It's been long stated in studies that in elementary school, both girls and boys express an equal interest in science and math, however by middle school most young girls lose interest. Without proper nurturing, this decline of interest can continue throughout high school, college and even in the work force. So what happens in middle school that creates this gap between school interest in technology and a career in the field? Middle school is often a time when young girls (and boys) look to other places (other than their parents) for guidance on how to be an adult. Young people often look to role models for inspiration, and they do so by turning away from their parents and into the celebrity soaked media outlets that are nearly impossible to avoid. And while positive and intelligent role models for young women do exist in the STEM fields, they are very easy to miss when Snooki and Kim Kardashian make the headlines each week for their one-dimensional activities.
A few years ago, a survey aimed at young girls between the ages of 13 and 18 was carried out by New Outlooks in Science & Engineering and back by the Engineering and Physical Sciences Research Council. When asked about career choices, it found that 32% of teenage girls would choose modeling as a profession, while 29% would choose acting, 12% would choose to be a housewife and just 4% would choose to be engineers. The survey revealed that "35% of teenage girls are put off by careers in science and engineering simply because they don't know enough about them, and one in four say these industries are not represented in the magazines and websites they read." This can be problematic when magazines, websites and television are inundated with celebrity culture that epitomizes sexiness over intelligence. The correlation between self-confidence and an interest in a STEM career is closely intertwined, and for a young girl who is exposed constantly to celebrity culture in the television she watches, the websites she browses or the music she listens to, it can dramatically decrease her self-confidence.
This mindset also bleeds into marketing and advertising for young girls. For example, an electronic tablet that is sold to young girls is pink and "hot" and can help them cook and give makeovers, while a similar tablet sold to boys is blue or grey and "adventurous". Gone are the days of the simple Cabbage Patch Kid doll; today there are Bratz, dolls with plumped up lips and heavy eyeliner, dressed in belly baring, pink-hued clothes that are marketed to girls as young as 6 years old. Why be adventurous with your mind when you can be pretty?
However, I suspect that toy companies are merely responding to what is trending in our culture. For example, take a look at the Lego Ad below from 1981. It's a terrific gender-neutral advertisement for Lego's, with a young girl wearing overalls and extremely proud of what she created with her mind. You hardly see ads like that anymore. So, ask yourself, what has changed from 1981 to today?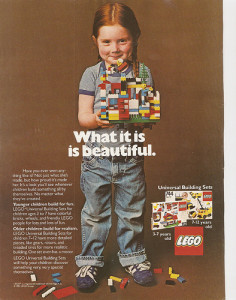 A Lego Ad from 1981. No pink in sight!
STEM knowledge is some of the most important because it helps with critical thinking and it supports the foundation upon which our modern society is built. As the technological astuteness and intelligence of a country begins to decline, so too will the country as a whole on all levels. STEM education matters, and it matters to average citizens as much as it does to those who work in the fields. And it also matters globally, where women make up 70% of the world's poor and own only 1% of the world's land. If we want to make strides globally, we need to start at home first. It is extremely important that our culture starts putting emphasis on things that matter for the betterment of our society.
Young girls need to know what is possible for their careers, for their future endeavors and for themselves as females. And if they choose careers in the STEM fields, or choose to be lawyers, teachers or amazing stay-at-home moms raising our next generation, they do so because it was their choice and not because they were mentally bullied by our media into thinking that their intellectual contribution to our society wouldn't matter.