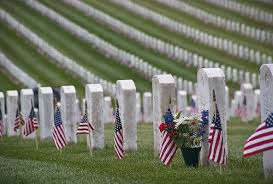 I opened up my morning paper today and saw the following: "New Car Memorial Day Sale, $1,000 cash back." "Blistering Memorial Day Sale on All Mattresses in Stock!" There were also grocery store advertisements advising me to stock up on Memorial Day cookout items.
There were some articles on the significance of Memorial Day. But, most of the copy focused on Memorial Day sales, cookout recipes, the start of summer. And let's not forget high school and college graduation season.
The United States instituted the holiday as Decoration Day in 1868 to remember veterans who died in the Civil War. Later, it became a day to remember all deceased veterans of wars fought by American forces. My father was a veteran of WWII. And I remember how he and his fellow members of the American Legion Post 500, Saginaw, MI honored the true meaning of Memorial Day.
A Short History Lesson
The American Legion Post 500 can trace its origins to 1945 and the aspirations of its founders who began meeting at Saginaw, MI area churches. The group decided to form a club which was first known as the Latin American Club for Veterans. In an effort to deal in an organized way with prejudice in the community, as well as physical and psychological wounds from the war, the group made the decision to apply for a Chapter Charter in the American Legion.
A significant part of the history of the Post 500 is the manner in which its name was selected. After being temporarily chartered as the Latin American Legion Post 500, the members decided to rename the Post in honor of the first four (4) Mexican-Americans from Saginaw who lost their lives in WWII: Pvt. Louis Martinez, killed in action in France, June 12, 1944; PFC Julian Garcia, killed in action in Guam, 1944; PFC Sifredo Nerio, wounded in France, July, 1944, and subsequently dying in a British hospital on August 1, 1944; and Pvt. John Reyes, a paratrooper killed in action in Italy, October 18, 1944. The official name of this veterans club became, American Legion Post 500 Martinez-Garcia-Nerio-Reyes.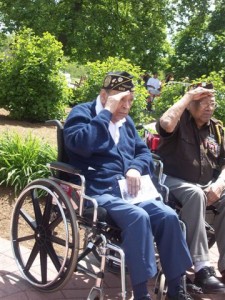 Every year on this day the American Legion Post 500 honored the memory of  all of their war colleagues who never made it back. Sure, there was celebratory drink and food but the main focus of the day was not forgotten.
I trust with all the shopping and barbequing  going on today time can be found to pay tribute and respect to all those who, regardless of race, religion, national origin, gender, or sexual orientation, served, fought and died in behalf of our nation.
All Gave Some, Some Gave All. Remember Them This Memorial Day!