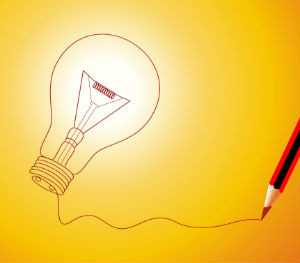 I grew up playing the violin and therefore acquired a penchant for classical music. Learning to read musical notations and identify rhythms, pitches and tones opened my eyes to the infinite number of combinations that can create music. It also made me wonder, is it possible to run out of combinations of musical notes so that no more new music can be written?
Math dictates that the combination of notes, rhythm, cadence and so forth are finite. These are all things that can be measured and calculated, and eventually there is an end point. However, the combinations are so immense that it is quite possible to listen to a new piece of music every minute for the rest of your lifetime.
"All truly wise thoughts have been thought already thousands of times; but to make them truly ours, we must think them over again honestly, till they take root in our personal experience."
I often wonder the same thing about thoughts. Are thoughts endless? After all, thoughts cannot be measured. It was the 18th century writer and philosopher Johann Wolfgang von Goethe who once wrote, "All truly wise thoughts have been thought already thousands of times; but to make them truly ours, we must think them over again honestly, till they take root in our personal experience."
While I agree that most thoughts have probably been reasoned before, I do believe that thoughts are infinite. Thoughts are a creative energy and when they are put into something tangible for other people to experience, they can then become a great source of influence. When you read a beautiful poem or listen to someone speak elegantly about a theory, it can inspire you to think differently.
Thoughts can always build upon themselves.
To cultivate your innovative mind, don't be discouraged if an idea you have has already been thought of and implemented. Often I hear people say, "I had the idea for that product, but someone else did something with it first." That doesn't mean that the idea is no longer valid. Try looking at it differently. A new way of thinking about something will always catapult the next great idea, and possibly the next great innovation.
Here are 5 simple ways to help propel your innovative mind:
1. Make Time to Think
In our fast-paced world, if you're not busy doing something, you risk being labeled as 'unproductive'. However, making time for quite contemplation is important. All of the great creators and innovators of our time have taken time to detach from the demands of the world and sit alone with their thoughts. Thinking is what makes us human, and if we don't take a break every now and again, new ideas and advancements will never be created.
2. Embrace Your Sense of Wonder
Children ask a lot of questions. Even when their questions are answered, they follow up with "why?" Curiosity prompts questions, and more questions prompt curiosity. We're born to be creative and inquisitive about the world around us. Yet, the older we get, the more those traits seem to diminish. An article on Oprah.com (published October 29, 2009) pointed out a UCLA study that documented, "on average, at age 5 we engage in creative tasks 98 times a day, laugh 113 times and ask 65 questions. By age 44, the numbers fade to two creative tasks a day, 11 laughs and six questions."
3. Develop and Refine
Not every idea will knock it out of the ballpark. That doesn't necessarily mean that it is a bad idea. Try gaining different perspectives and let your idea evolve. Don't be completely rigid and resist new ways of looking at your idea. Remember, it's better to be flexible than to break.
4. Be Empathetic To Other Points-of-View
Don't just see things from your point-of-view; try to put yourself in others' shoes. By doing so, you can gain a better understanding of the world around you and breathe new life into your ideas.
5. Impossible is a Mindset
If you really think about it, almost anything is possible. When Shakespeare wrote, "a rose by any other name would smell as sweet," he meant that the name of things do not matter, only what they are. 'Impossible' is just a label given to identify uncertainty. For some people, it's a roadblock, for others, it's a challenge. Remove that word from your mindset and let your creativity flourish.
Perhaps it's true that all thoughts have been thought of before. But what makes a 'new idea' novel is an individual's unique take on it and the distinctive path one took to come to a certain conclusion. There have been many great inventors, creators, pioneers and so forth that have shaped the world we live in. By challenging the status quo and using inspiration from other ideas, they helped bring about transformation and motivated our society to evolve. What exciting ideas are stirring in your mind?
Do you have what it takes to become the next great innovator?